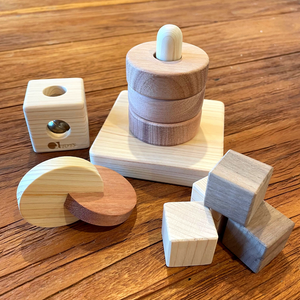 CLEARANCE New Baby Wooden Toys Set
The perfect wooden toys gift set for anyone welcoming a little one into the world. This set is made up of four Montessori inspired toys. Includes Dual Discs, Montessori Vertical Ring Stacker, Cube Rattle & Four Wooden Square Blocks.

The Dual Discs are one of the first developmental toys that can be offered to infants 3 months+. The interlocking discs have dual purpose: crawling motivation and hand-to-hand transfer. The unique positioning of the discs means this hand-to-hand transfer also requires some wrist rotation. Measuring 8cm.

The Montessori Vertical Ring Stacker isolates the skill of putting the blocks on the dowel. Encouraging development of grasp and hand-eye coordination. Measures 10cm x 10cm x 12cm.

The Cube Rattle offers babies a grasping experience and a gentle sound as the cube is shaken. Suitable for babies 3 months+ under adult supervision. Measures 4.5cm x 4.5cm.

The Four Wooden Square Blocks are perfect for balancing, building and problem solving.

Made using plantation timber with non-toxic materials.
---
We Also Recommend