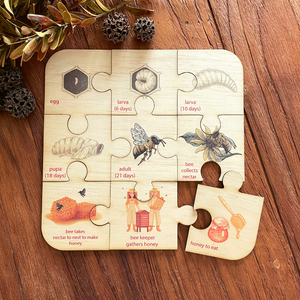 CLEARANCE 9 pc Honey Bee Lifecycle Puzzle
This simple 9-piece puzzles feature beautiful vibrant images of the Honey Bee lifecycle, as well as their name.  They are a great introduction for young children to the lifecycle of the honey bee and a neat way to encourage exploration of nature.
9 pieces – completed puzzle approx. 23cm x 23cm. Recommended for ages 3+
EDUCATIONAL APPLICATIONS
Individual
Use if a child has a particular bug or bee interest to settle. Making the puzzle area inviting. Use the puzzle to introduce a new topic. Use the puzzle piece to draw study the different lifecycle stages, discussing all the elements and what happens at each stage. Also great for learning the correct names of the objects and animals in the puzzle as well as spelling, sounding out words and letters.
Group Setting
Formal group times encourage children to discuss each puzzle part use open ended questions and foster children's learning and understandings. Use to introduce new topics in groups. Further extend on children's interest by getting them to research each animal or object on the puzzle to see if they can come up with a fact.
Learning Opportunities
Learning through play, identify and match colours and shapes, sort and problem solve, sequence, use their memories, concentrate and encourages turn taking skills. Hand eye coordination. An understanding of the world around them. Promotes research and discovery, socials skills through completing puzzles with peers.
---
We Also Recommend